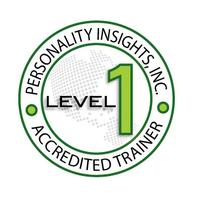 Judith Facilitates Training and Certification
in the D.I.S.C. Model of Human Behaviour.
The objective of the Behavioral Studies Level 1 training modules is to enable participants to Discover, Experience and Apply the four temperaments Model of Human Behavior. The stated outcome of the Training is to positively impact and optimize every professional and personal relationship and/or partnership.
Upcoming Courses:
Cambridge, Ontario
Wednesday, 1 October 2014 at 8:00 AM

|

Friday, 3 October 2014 at 5:00 PM (EDT)
Homewood Suites by Hilton | 800 Jamieson Parkway
Edmonton, Alberta
Thursday, 30 October 2014 at 8:00 AM

|

Saturday, 1 November 2014 at 5:00 PM (EDT)

Quality Inn West Harvest | 17803 Stony Plain Rd | Edmonton | Alberta
How Will You Benefit and Live Life Powerfully?
Understanding people and their behavioural styles effectively (read satisfactions, success, profitability…) enhances both personal and professional relationships by improving communication skills and reducing conflict – less conflict more synergy and energy.
Imagine being able to better comprehend and work with what motivates yourself and others. Attend the D.I.S.C. Behavioural Studies with Train-the-Trainer accreditation and you will gain valuable insight into how to effectively connect with and relate to others.
Ongoing education within the field of human behaviour is the key component to assist you in building effective skills around customer service, team building, and interpersonal relationships. Who couldn't be better equipped for the stress of modern day pace while interacting with people, often in challenging and hectic work environments.
The D.I.S.C. Program, developed by William Marston – theorized that people are motivated by four primary drives. These drives direct behaviour into the patterns called D.I.S.C. Model of Human Behaviour; a special language that describes observable behavioural patterns when interacting with people.
The D.I.S.C. Model of Human Behaviour is a tool used for personal growth and development, training, coaching and managing of individuals, groups, teams, and applying leadership strategies within organizations. Understanding the D.I.S.C. Model of Human Behaviour has empowered millions internationally to better understand themselves and others. Applied in corporate, business and personal situations the D.I.S.C. Model of Human Behaviour can lead to professional and personal insights. We don't know what we don't know…
In addition, the result of the Discovery Report, an online comprehensive computerized report, is designed to provide targeted insights and strategies for interpersonal success through more effective communication, understanding and acceptance. This online Discovery Report is used as a learning and training tool to create rapid rapport and connection between people in the workplace for sales,
management, and leadership.
"The whole package was most useable as it gave me context for what I want to do next… (in my career).This is a wonderful tool for people to start becoming more aware of themselves, and then others…" —MS
For more information and tools for exploring the DISC Model of Human Behaviour be sure to visit the Personality Insights Store. My visitors will receive special discounts upon checkout.